Description
Website Register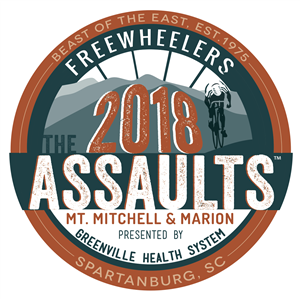 The 43rd Annual Assaults presented by Greenville Health System will be held on Monday, May 14 2018. The Assaults is one of the most intense, premier cycling experiences that draws a full field of nearly 1,000 cyclists from across the world each year. This one-day challenge takes riders from Spartanburg, SC to the top of the highest peak in the East, Mt. Mitchell. Please join us for the 43rd Annual Assaults on Mt. Mitchell and Marion in 2018.
2018 Assaults on Mt. Mitchell and Marion
The Assaults will celebrate its 43rd anniversary in 2018. Why Monday you ask? Due to the popularity of both the Blue Ridge Parkway and Mt. Mitchell State Park, Monday is the only day available for a special event!
The Assault on Mt. Mitchell
October 16 – December 31: $125
January 1 – April 15: $135
April 16 – May 13: $145
The Assault on Marion
January 1 – April 15: $50
April 16 – May 13: $55
Price includes event t-shirt and post-ride lunch. Mitchell riders also receive bus transportation from the finish line at Mt. Mitchell to the Tom Johnson Campground in Marion, NC.
Registration 101
It's the ultimate cycling feat: a one-day ride that attracts cyclists from around the world. We've created this handy guide – your Registration 101 – to help you register for the event. The Assaults on Mt. Mitchell and Marion are an intense and memorable experience. Register early, train hard, and we will see you in May!
Note: All event details are subject to change. Check event website for event details.